LAskill Project 1.0 – Website Development Training
Website Development Training for the Non-Techies
On the 4th and 5th of November 2021, LearnAskill Training Center (popularly known as LASkill Training Center) held its first training in Uyo, Akwa Ibom State. The training topic was on; How to develop a website without coding. The training was anchored by Mr. Charles Izuoba, an innovative digital marketer and skill monetization strategist.
The program was to run for 12 days. 2 days offline (face to face at the training center), and 10 days online (via Zoom).
The training was set to start at about 9:00 am, but due to a little bit of delay from a few participants whose locations were a tad distant it started at about, 9:30 am. An opening prayer was led by a participant, to jumpstart our first ever session.
Day 1
The session was divided into two parts, A and B. Before anything, there was a "Get to know the participants" session, where the participants were able to introduce themselves stating their name, occupation, why they are interested in the training, and what they hoped to gain after.
In part A…
There was an introduction to the software the participants were about to work with, 'WordPress' (a software by Mark Mullenweg, an American developer). The anchor (Charles Izuoba) said as his introductory statement that "oftentimes people have the desire to learn how to develop a website but are bamboozled by the complication of the computer language used in programming (this process is often referred to as coding) so a group of people decided to come together to make a way. Today I will be showing you the map. I myself have managed to build over 25 websites with this software and after today by God's grace you too will be able to do the same."
In this part, the participants were able to learn…
what a domain and domain name are,
what website hosting is all about, with suggestions on great hosting sites,
what a Cpanel is, all that it's made of, and finally,
how to install the software.
There was a lunch and mingle session afterward, where the participants got to have some mouth-watering goodies, as they chilled and connected with one another.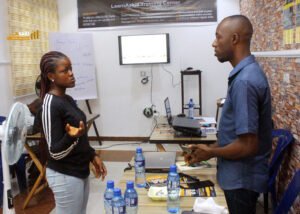 Part B
This session commenced with an introduction to what the WordPress dashboard is all about, the theme, permalink structure, and the appearance settings on a website. In this part, the participants were also thought what website design involved, its structure, tools, etc. as well as the 3 major types of websites.
There was a question and answer session, where the participants got to ask questions on what they had just been taught and have their questions answered patiently.
We (LASkill Training Center) handed out survey sheets for feedback (because our student's satisfaction and gain are crucial). After the closing prayer, there was a photo session, with a lot of teeth and funny faces.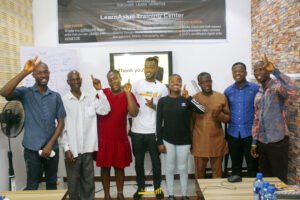 Day 2
This involved the all-time favorite. "Practical". This session was divided into three parts, A, B, and C. For this session, the participants were advised to come with their personal computers.
In part A…
They were thought the framework of websites, their key features, and similarities. They were also advised on how to discuss with a client, they are looking to work with.
In part B…
The participants were put in three groups where they were to build an assigned website, based on the ones they had just learned. A practice subdomain was created and they got to work. Frowned brows, clicked pens, and head nods later, they all came up with wonderful demos websites, each group's site was discussed, mistakes were highlighted and corrected.
The participants were also asked how the experience of working together was, they all had very positive things to say. After the work, came the munch, the participants were served with a round of stomach-rewarding goodness, which they enjoyed and were very grateful for.
Part C
This came shortly after the delight, in this part the participants were assigned certificate awarding projects, in which they were to develop on their own, the websites they had just learned about. They were asked to show their work in the ten-day (of their choosing) online session with Mr. Charles.
There was a question and answer session, where the participants got to ask questions on what they had just been taught and have their questions answered patiently. Surveys sheets were passed to get feedback on the program, a few participants were also interviewed and asked about their overall experience and rate LASkill Training Center on Google and follow us on social media.
The offline program ended with a fun photo session. In the end, everyone left happily ever after.
You too can be a part of this experience, join the "LASkill" family today, it would be the best training experience you've ever had.
Content Credit:
Written by Iven Anafusi (IG: @anafusiiven)
Shot by Gabriel Paul (IG: @pmj_imagery)